News
2008
2007
Exood4 is back !
It is with great pleasure that we announce the reopening of the Exood4 Studio site today with an all new design, new topics and some surprises. This News section will let you follow all our activities. For our regular visitors, the old section of tutorials has been moved to : Exood4 Tutorials.
Have a pleasant visit.
---
Toulouse Game Show
The first edition of Toulouse Game Show will be held November 24th and 25th at "Espace DIAGORA", Toulouse Labège (France). This exhibition is devoted to japanimation, video games, Asian culture and science fiction. Many good things in store and with any luck you may meet us there.
All the details on the official site of TGS.
---
Neko DS postponed
The development of The Dream of Neko for the Nintendo DS is postponed for the time being, but we do intend to release the PC version towards the end of the year.
---
The Dream of Neko, DS version
After the the completion of the PC version and after some necessary negotiations and a fast study of the Nintendo DS, we intend to develop the game "The Dream of Neko" for this console.
---
2006
The Dream of Neko
We intend to start the development of a new game for PC, "The Dream of Neko". It is a 2D platform game where all the elements were brought together in order to create what we hope is "a must" for your gaming library.
Please note that this game is geared to a rather young public, but we feel the nostalgic gamer fan will also appreciate it.
---
LUDOVIA 2006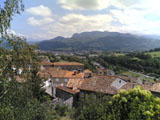 Perhaps you met us ? We were at the third edition of LUDOVIA.
Ludovia is the first summer University dedicated to multimedia and ludo-educational professionals, organized by Ariège Expansion. It gathers professionals as well as scientists of various research laboratories.
On July 5th, 6th and 7th, in a very pleasant environment at Saint-Lizier (Ariège, France), many discussions were carried out around the Immersion. Very instructive debates and exchanges attempted to answer the problems which professionals of this sector often encounter today.
Actors of the video game industry were also present, such as Stéphane Bura of 10Tacle Studios which also held a remarkable conference on communication in video games.
Let's meet at the next edition, but until then you can find all the information on official site of Ludovia.
---
Partnership with FUTURN
We have just entered into a partnership with the FUTURN Association, so don't hesitate to visit their site as it contains wealth of information about video game creation and recent industry news. You will also find our tutorials there.